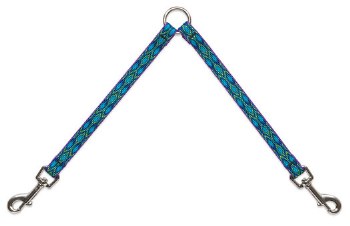 Lupine - 1/2" Wide Coupler - Rain Song - 18"
Product Code: 23661
$12.95
Help avoid tangled leashes with a Lupine Original Designs Leash Coupler. Attach to your existing leash and the coupler splits for walking 2 dogs at once. Available in all of our distinctive Original Designs to match your other LupinePet gear. Leash couplers in ¾" & 1" widths for medium & large dogs feature a convenient gate style snap. ½" width for small dogs feature a lightweight, traditional trigger snap. Premium components include:

Strong, Durable Webbing - Made of premium woven nylon that's strong & durable.

Stitching - Every Fiber Matters - LupinePet utilizes the same bar tack commonly used in mountain climbing products where superior strength is crucial.

Heavy-Duty Steel O-Ring - Lupine's welded steel O-ring is rust resistant and designed to hold up to years of heavy use.

We guarantee Lupine Pet dog collars, dog leashes, dog harnesses, and cat collars.
GUARANTEED (Even if Chewed) means that we cover any accidental damage that occurs during normal pet related activities, even chewing or scratching! Our guarantee does not cover items that are lost, outgrown, or products that are simply worn. No receipt needed, it's that simple! Bring damaged products into any Phydeaux location for a replacement!