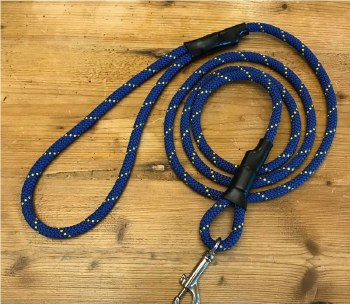 Mountain Dog - Mighty Mini Clip Leash - 6 ft
Product Code: 26731
$20.99
*Because Mountain Dog uses recycled climbing rope, Phydeaux cannot guarantee the availability of specific colors. Please specify your preference and we will do our best to accommodate!*

Even little dogs want to be Mountain Dogs! This leash uses a smaller diameter rope and clip. It is about 50% lighter than the Original Clip Leash and perfect for dogs that weigh less than 25 pounds.

The Mighty Mini Clip Leash is assembled by hand in the U.S.A. from 8mm anchor cord. This is the same cord that climber use, and it is incredibly strong and durable. The loops at either end of the leash will hold almost 1500 pounds. All Mountain Dog Leashes come with an unconditional lifetime warranty that even covers chewing.

- One of our core values here at Mountain Dog is preserving the planet for future generations. We take this seriously, and our commitment to being environmentally responsible is evident in every aspect of our business.

- Most of our leashes are made from recycled climbing rope. Not only is climbing rope stronger, more durable and more comfortable than any other leash material on the market, but by using it we reduce landfill contributions. Some of our Might Mini Leashes are made with new 8mm anchor cord.

- All manufacturing at Mountain Dog is done by hand produces almost no carbon footprint.

- We are big believers in sustainability, and we only make the highest-quality products that are made to last a lifetime. All our packaging and paper contains recycled material.